Conventional silicon steels are widely used for electrical power apparatus, electrical components of industrial products, and home electronics. However, most silicon steel strips are thicker than 0.20mm and only applied to apparatus operated at industrial frequencies.
The thin silicon steel strips are suitable for being used at higher frequencies. The thickness of the silicon steel strips has been reduced to the world's thinnest level, reducing the core loss caused by eddy currents. Combined with the insulation coating technology, the lamination factor has been improved.
The thin silicon steel strips assist in saving energy and reducing the size of high-frequency reactors, transformers, and motors.
The thin silicon steel strips help save cost and improve the performance of equipment at high frequencies.
Characteristics

■ Low Core Loss
They have low core loss at high frequencies, improving the efficiency and reducing the energy consumption of reactors and transformers.
■ High Permeability
With the characteristic of high permeability, it can be applied for shields.
■ High Saturation Flux Density
They contribute to the down-sizing of high frequency reactors and transformers due to high saturation flux density.
■ Excellent insulation coating
With inorganic coating, it has excellent insulation property, enabling the best stress relief annealing (results).
Magnetic Parameters
Table 1 Core loss properties

Grade
Core loss (W/K
W15/50
W15/100
W10/400
W10/1000
W5/2000
W2/5000
W1/10000
W0.5/20000
GT-100
1.2
3.0
6.1
21.3
18.0
15.2
10.4
13.0
GT-050
1.7
5.0
7.3
17.
13.0
10.2
7.1
5.3
Table 2 Permeability and magnetic flux density properties

Grade

Alternating permeability x 10-3 (H/m)
Magnetic flux density (T)

μ10/400
μ10/1000
μ5/2000
μ1/10000
μ0.5/20000
B8
B25
B50
GT-100
20.4
16.2
9.6
2.8
1.2
1.82
---
---
GT-050
16.6
16.0
9.9
2.7
1.5
1.75
---
---
Note: The specimens are taken from the strips parallel to the rolling direction. The measurements are in accordance with JIS C 2550 after stress relief annealing.
Table 3 Mechanical and electric properties
Grade

Density

(g/cm3)

Space factor

(%)

Tensile strength

(N/mm2)

Elongation

(%)

Hardness

(Hv)

Specific resistance

(μΩcm)

GT-100
7.65
93
420
9
202*2
48
GT-050
7.65
90
387
11
179*2
48
Note: 1. Tensile strength and elongation are measured parallel to the rolling direction.
2. Hardness are measured by *1: H;0.5Kg, *2: H;0.3Kg, *3: H;0.1Kg.
Table 4 Comparison of properties between various magnetic materials

Material

Magnetic flux density

B8 (T)

DC max relative

permeability μm

Core loss

W1/20000 (W/Kg)

Specific resistance

(μΩm)

GT-100
1.82
24,000
35
0.48
GT-050
1.75
14,000
51
0.48
High silicon steel (0.1t)
1.29
23,000
31
0.82
Amorphous

1.56
300,000
6
1.30
Nanocrystalline
1.23
70,000
4
0.01
Dust core (Sendust)
0.65
150
62
>10,000
Ferrite (Mn-Zn)
0.45
3,500
3
>100,000
Magnetization Curves
■ GT-100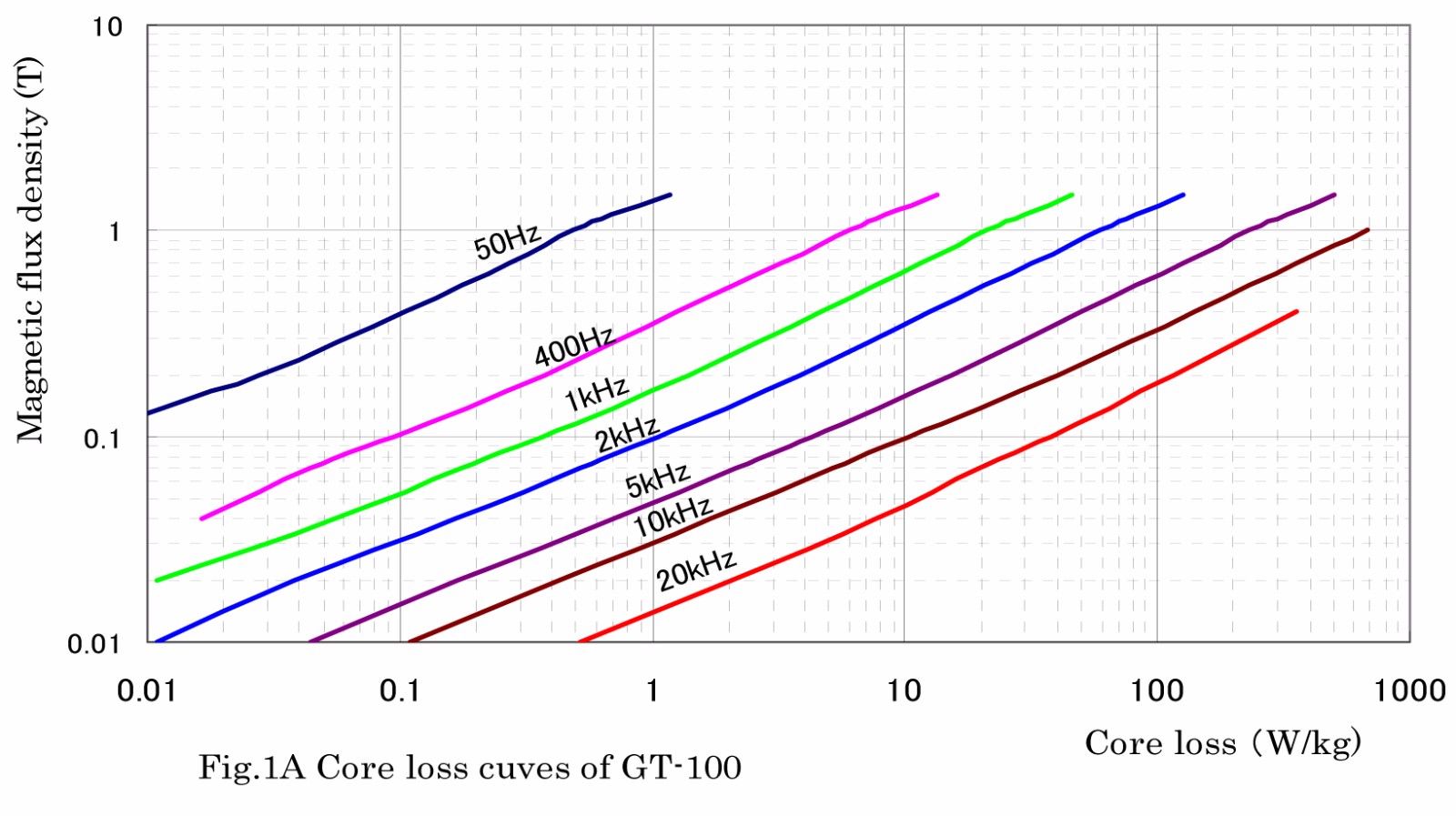 ■ GT-050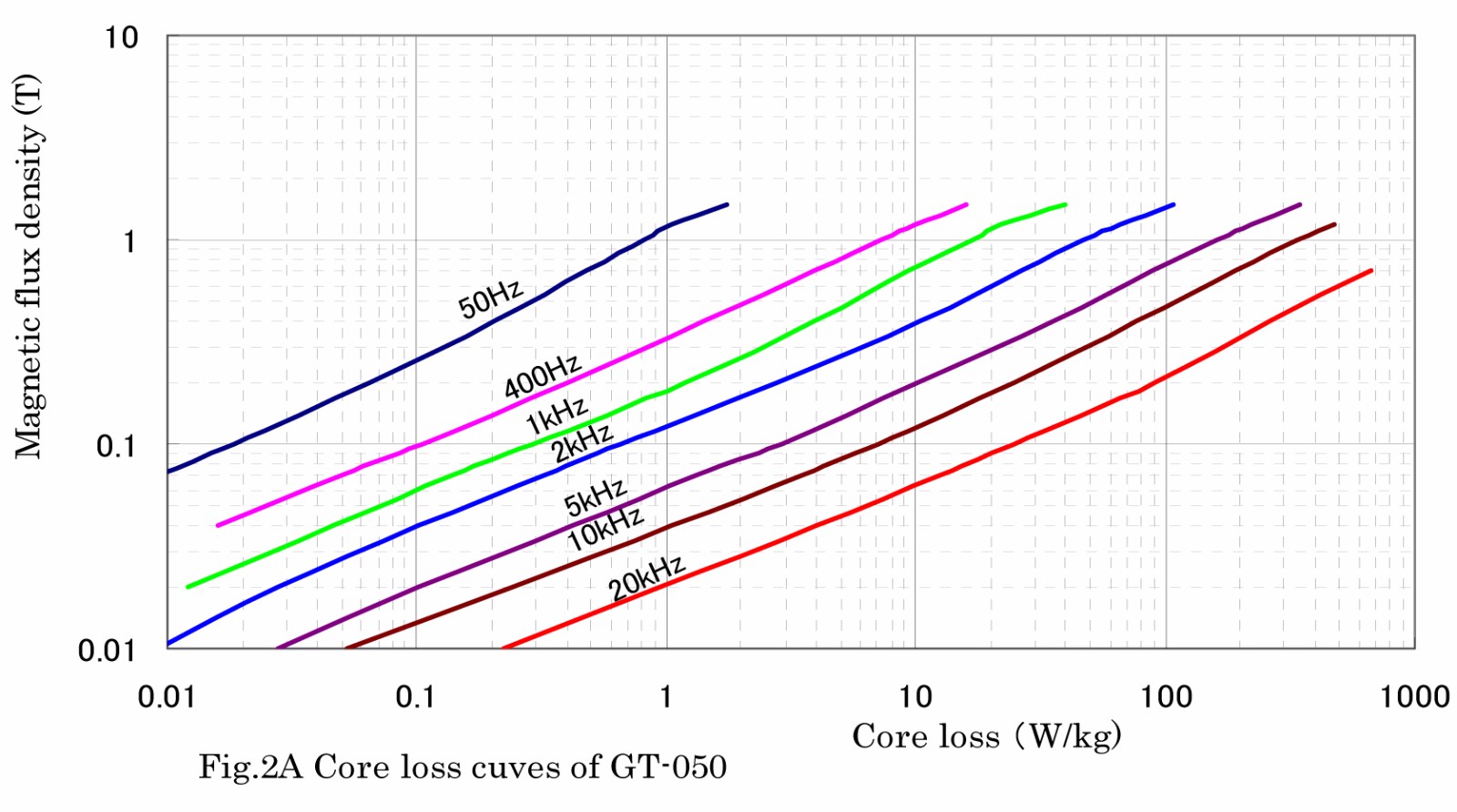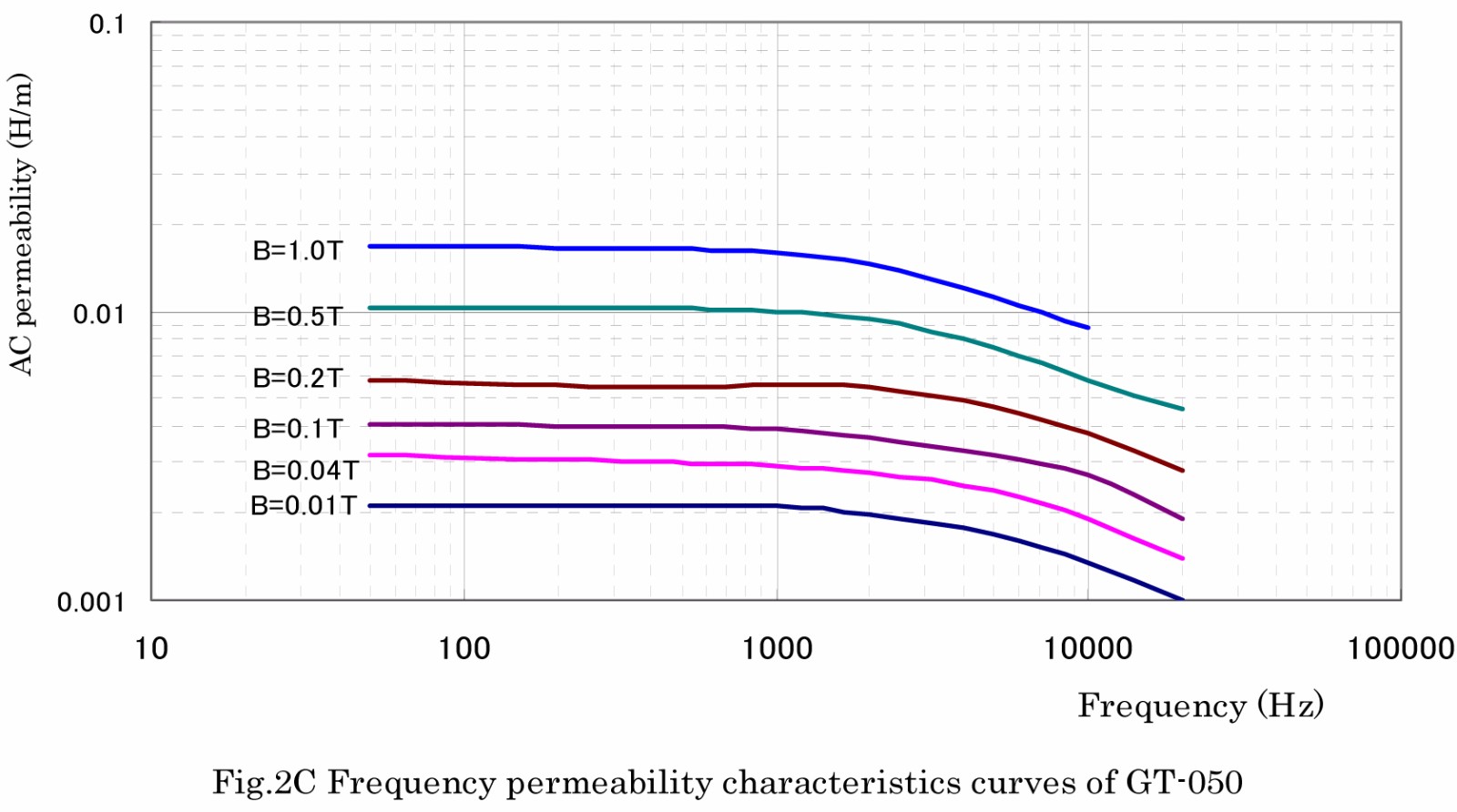 Applications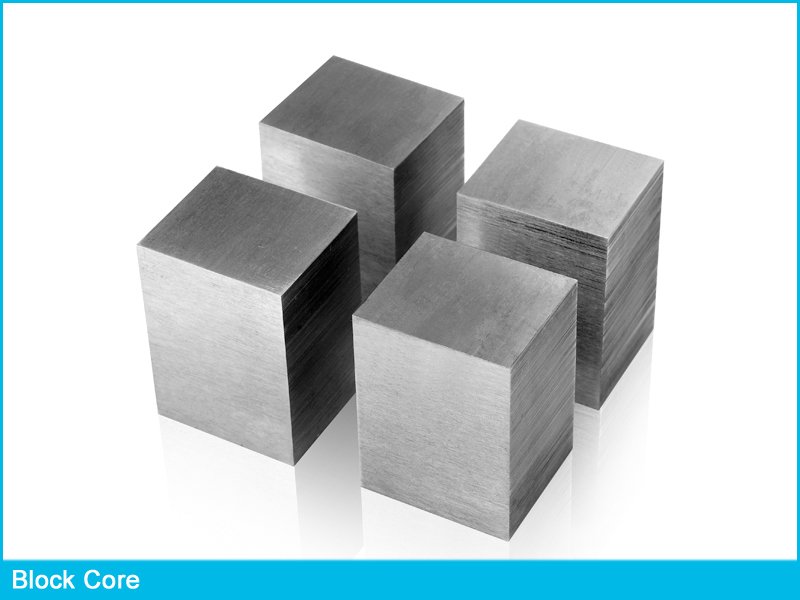 Material: Imported Japanese 0.05mm, 0.10mm oriented thin-gauge silicon steels.
Features: NICORE produces tape wound cores, block cores, U-cores and other special cores with high quality steels according to customers requirements.